Romans Day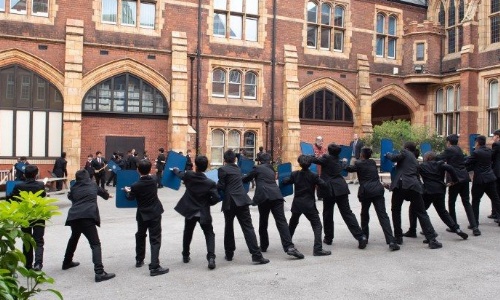 On the 3 October 2019, it was the year 7 Romans Day. All of year 7 had hours of fun while taking part in activities linked to Roman history. As we were learning about the Romans, it gave us a detailed explanation about the Roman Empire.
The first activity was based entirely on tactics and weapons of the Roman army. In this activity, year 7 learnt about how organised Rome's Army was. Their variety of tactics and formations was key to their vast power. As well as this, year 7 used real weapons; these included ballistae and catapults. Using shields, we practised formations and listened to instructions that our legate shouted at us.
After that, year 7 became a group of gladiators fighting for their lives and their glory. There were several executions beforehand however it didn't end there. After multiple 'deaths the foam sword struck the final opponent: victory! Year 7 learnt about how the poor would entertain themselves. This was made for the poor s their misery depressed them and they thought they were living a bad life; gladiator-fighting gave them hope when they felt doomed.
Finally, year 7 learnt about the Roman army in greater detail; how they won battles, their armour, weaponry and daily life. We also met a 'real' Roman soldier who showed us the Roman Empire in all its glory. We also learnt about the training regime of Roman soldiers who will train to fight, their job for the next 20 years.
Year 7 left the school educated about every aspect of the Roman Empire from gladiators and slavery to the Roman army and Emperors. We all hope that another event like this takes place again for future year 7 classes.
Adeel, 7M and Alexander, 7F